What is amazing about working on OPT extension of F-1 visa is that you can change your employer if you want that is it is not employer-dependent. All that is required is:
Get a new job offer
University should be informed the change
All you employment document should properly maintained
Know someone who wants to pay off their loan sooner?
With our referral programme, anyone can refer a friend and earn a USD $150 Amazon voucher for your first two successful referrals – meaning you could earn up to $300.
Plus, you'll be helping one of your friends save over $20,000** on their student debt!
---
---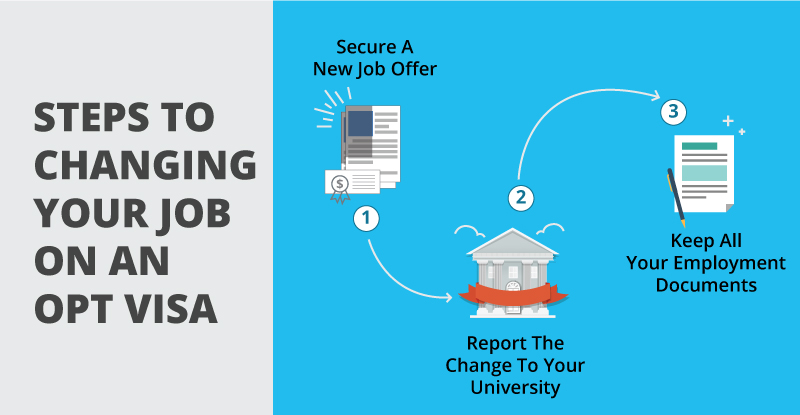 Just like all things immigration, there is always things you have to accomplish to ensure you are on the correct side of the law.
What to do when changing jobs on your OPT?
Whenever your employment status changes while working on your OPT, probably the most crucial thing you have to undertake is reporting these changes to your school as quickly as possible. This is applicable whether you are taking a job with a different organization or perhaps you agree to a new position with your current employer.
Moreover every switch has to be reported while working on the OPT extension with the F-1 visa.
Note – As the OPT must be linked to your education, your school remains at the heart of this visa class. They'll need to be informed of and then report any changes you make while working on your OPT.
---
KNOW MORE: 100% JOB PLACEMENT PROGRAM FOR F1 OPT & CPT 
---
Got a new job?
Make sure to report it to your school within 10 days of making any changes so DHS never needs to question your status.
Found a new place to live?
Your school needs that information within 10 days as well.
Although you might just have little info for reporting at this particular point, it is crucial you have all files pertaining to each task (even your prior OPT employment) as you might need to present evidence of employment (and it had been related to the field of yours of study) for upcoming visa programs as well as processing.
Generally, you will require an employment letter or even contract proving:
the position of yours and job title
the duration you held the position
explanation of your responsibilities and work
contact info for the supervisor of yours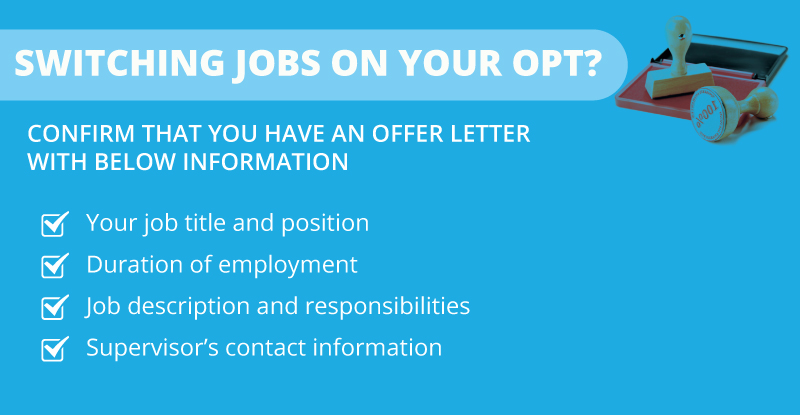 TIP:  If your employment contract doesn't specifically outline each of the above, request an additional letter from your supervisor or the HR department (on company letterhead) that covers each point. And, be prepared to clearly explain how your employment relates to your field of study.
Believe it or not, that's more or less all you need to do to maintain legal status when changing jobs on your OPT
Changing jobs on the OPT? Time to Think about your Student Loan
Although there are any number of reasons you might change jobs while on the OPT, one of them is surely the pay check that comes with your new position.
If you're earning more, now's a great time to pay a little more towards your international student loan. These extra payments will:
Reduce the amount of interest you pay and, therefore, the total cost of your loan.
Help you to repay your student loan faster.
If you're serious about reducing the cost of your international student loan, or your lender doesn't accommodate early repayment, it's time to think about refinancing your loan.
What if you accept a new job, but still work at your previous position?
One critical aspect of the post-completion OPT is that there's no cap on the total number of hours you work. (There are definitely emotional and physical caps, but those are personal.)
So, you can have multiple jobs while working on your OPT job. But you and your employer need to meet the following criteria:
Each job you have must relate to your field of study. And, if your job title doesn't make it clear that your degree enabled you to take this position, you'll need a letter from a supervision on letterhead which outlines your work (and how it relates).
You must work a minimum of 20 hours per week at each job you have.
All employment (and periods of unemployment) must be reported to your school.
If you're working on the STEM extension of OPT, you must be paid at fair rates for your work. (You can accept unpaid or volunteer work while on the standard OPT, as long as it meets all other criteria – including the relation to your field of study, but not while using the additional 24 months of the STEM extension.)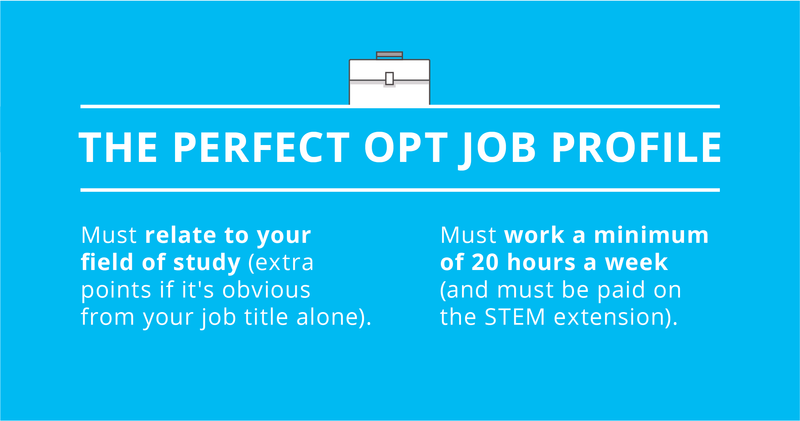 Again, the most important thing is to report this change to your school. While on the initial 12 months (or whatever time you were granted) of the OPT, you may be unemployed for a maximum of 90 days (including weekends).
Once you reach a total of 90 days, you also forfeit the 60-day grace period to leave the US given to those who successfully complete their OPT work period. In other words, you'll need to leave the country before those 90 days are up.
Keep in mind that you'll also need to report this information to your school. Leaving without reporting your exit might preclude you from securing visas to the US in the future, should the opportunity ever arise for you to do so.
Above all, it's critical to report changes to the international office at your school as quickly as you can. And, if you have any questions regarding your OPT visa or what should be reported, be sure to get in touch with your university, even if you consult with an immigration lawyer or the international HR specialists in your office.
Want to sort out your international student loan while working on your F-1 OPT?
Refinancing helps you build credit in the US – and it can also save you thousands (or even tens of thousands) of dollars on the total cost of your loan. Applying is simple, fast and you'll see how much you can save instantly after completing the Prodigy Finance obligation-free application.

Max Troy is the Career Counsellor as well as a passionate Author. Well, he has years of experience in the Career and Jobs industry. As a part of his career at OPTnation, he helped various OPT and CPT candidates to shape their Career. Through his knowledge and writing skill, he is contributing to the students to find the best Career advice and immigration topics. Do share the information if you like it.