Millions of students in the U.S. receive financial aid.
According to the 2019 Federal Student Aid Annual Report, 18 million total FAFSA applications and 10.4 total postsecondary applications were approved for financial aid. Thus, the total number for student aid amounted to $121.8 last year.
Despite a seemingly big number of applicants for financial aid, this is not the biggest student aid budget that the U.S. has seen over the years.
If you take a look at Finder's student aid graph over the years, you'll see that previously the number of applicants for financial help was much higher: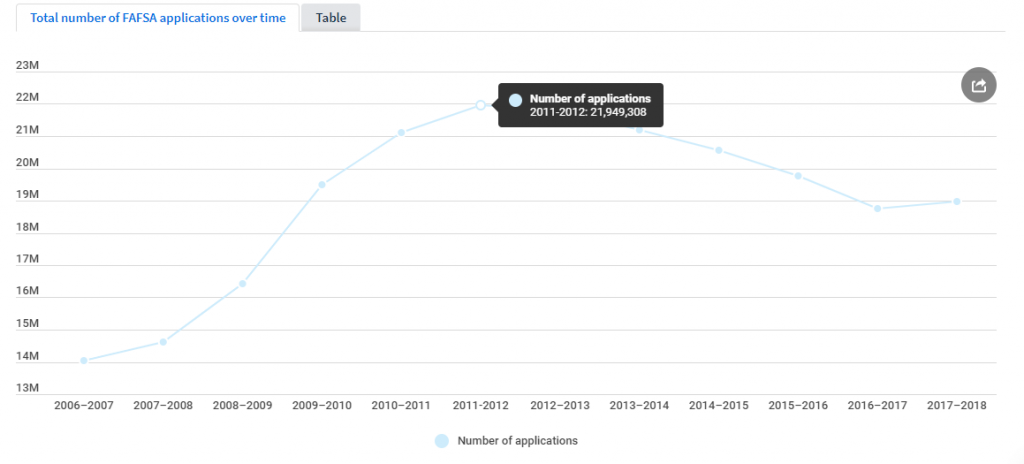 Over the past decade, the interest of students in getting financial aid has significantly dropped.
One of the reasons that account for this drop is the spread of the myths about financial aid, such as the complexity of FAFSA application or the limitations in terms of family income or academic performance of a student.
However, most of these myths have nothing to do with reality.
So, let's debunk the most popular of the myths about college financial aid.
Myth #1: Only Straight-A Students Get Financial Aid
As the senior year comes, students start panicking about getting their GPA in order because it supposedly impacts the decision about financial aid.
Indeed, some programs that provide financial aid are merit-based and only straight-A students can get them. However, the story is different if we're talking about federal aid.
If we're talking about FAFSA and financial aid from the government, GPA is not the first thing that officers consider when reviewing student aid applications.
The Federal Student Aid website says that students need to maintain 'satisfactory' academic progress.
What does 'satisfactory' mean?
This means that the lowest margin of your GPA should be at least 2.2.
What really matters if you want to get financial aid is your family's income.
Does the situation change when you are already in college?
Yes.
If a student wants to keep receiving financial aid after entering college, you need to maintain satisfactory academic progress.
What does satisfactory mean in this case?
Every school has its own satisfactory academic progress policy. So, you should go to your school's website or ask a counselor to help you clarify the following points:
the grade-point average your need to maintain
how many credits you need to complete by the end of each year
how any change in your curriculum affects your academic progress
how often school evaluates your academic performance
what happens if you fail and how you can regain federal aid in this case
As you can see, you don't have to be a straight-A student to start getting financial aid. But you have to work on your academic progress a bit harder when you are in college to keep receiving financial help.
Myth #2: Only Students from Minority Groups Get Financial Aid
Another false myth is about the supposed favoritism of the government towards the minority groups. This myth, however, has nothing to do with reality.
The website of the Federal Student Aid that we shared earlier, provides basic eligibility requirements which only state that an applicant should be a U.S. citizen or an eligible noncitizen.
Thus, there is no favoritism towards minority groups mentioned in the eligibility requirements. This would also contradict the 14th Amendment to the Unites Stated Constitution, which rules out all discrimination based on race or ethnicity in any of the federal programs.
Students from minority groups, however, can still get additional financial aid after enrolling in colleges.
There are a few programs and grants for minority students, such as Gates Millennium Scholars and Lagrant Foundation Scholarships that provide additional financial aid to students from different minority groups.
Myth #3: Only U.S. Citizens Can Apply for Financial Aid
A bit earlier, we already mentioned that the eligible noncitizens can apply for college financial aid.
Who falls under the category of an eligible non-citizen?
According to the Federal Student Aid website, the following persons are considered eligible non-citizens:
a U.S. national (natives of American Samoa or Swains Island)
a U.S. permanent resident with a Permanent Resident Card
a citizen with an Arrival-Departure record with the following designations: 'refugee', 'asylum granted', 'Cuban-Haitian Entrant', 'Conditional Entrant'
a certain visa status allows you to get financial aid, such as a T-visa (for victims of human trafficking) or a parent has a T-nonimmigrant status
These and a few other eligibility requirements allow noncitizens to apply for federal aid. Thus, the myth that noncitizens cannot apply for college financial aid is mostly false.
If you don't fall under any of these categories, you still can apply for additional financial aid provided by your school or any other scholarship foundation.
Myth #4: I Can't Get an Aid Because My Parents' Income is High Enough
Although the Federal Student Aid website states that you need to demonstrate financial need to qualify for financial help, there is no income limit, when it comes to filling out the FAFSA application.
So, even though your parents might earn enough money to provide you with higher education, you still need to fill out the application if you apply for certain scholarships and grants.
For instance, the Tennessee Promise program offers all state residents two years of free tuition in a state technical or community college, but you need to complete FAFSA application to participate.
Also, if you want to get a work-study grant, you still need to fill out the FAFSA application to be considered a participant of the program.
Besides, according to the Federal Student Aid website, you need the same application if you are eligible for merit scholarships.
So, even though your parents might have enough money to send you to an Ivy League college, you still can and should apply for federal aid because there is still a chance you can get it.
Myth #5: FAFSA Application is Too Hard to Fill Out
This is not a myth but rather a misconception.
The FAFSA application is one of the first difficulties a former high school student has to face, so, naturally, it seems hard because it contains many difficult terms and concepts.
In reality, all you need is thorough preparation, and it should take under 30 minutes to fill out this form.
There is a list of additional documents you will need depending on your status. But the basic documents required to complete the FAFSA application are:
your Social Security
your driver's license
your 2018 W-2 forms and federal income tax return confirmation
2018 untaxed income records
current bank statements
If you still struggle to fill out the application, you can ask your school counselor to help you out.
In case you don't have access to your school counselor because of the current COVID-19 situation, you can use online platforms like ClassyEssay or TopEssayWriting that have the necessary guides to help you do it yourself.
There's nothing scary about filling out the FAFSA application, considering you will have to do it every year.
This is also a friendly reminder that you should complete the FAFSA application each year when you want to get federal aid. But once you get a grip on this process, it will be a piece of cake.
Myth #6: If I Wasn't Eligible for Financial Aid Last Year, I Also Won't Be This Year
Lastly, we will briefly touch upon the sixth most common misconception about getting college financial aid.
Depending on their situation, whether it is non-eligibility as a noncitizen or having a high family income, some students may be denied federal financial aid.
As a result, this discourages them to fill out the FAFSA application next year, which is why many of them lose precious opportunities to get new grants and scholarships.
When it comes to federal aid, keep in mind that the eligibility requirements can change every year.
Moreover, your state or college can create new grants or scholarships, like the Tennessee Promise program we mentioned above, that require you to complete the FAFSA application.
So, don't get discouraged. You have a chance to get financial aid, so fill out an application every year.
---
ALSO READ: 
Tips for Recent College Graduates Looking For Dream Job
Is the cost of going to a university or college in the USA truly worth it?
---
There is a tricky part of getting college financial aid.
While all the eligibility requirements for student aid are clear enough, the actual formula, how this aid is granted, is not.
There are many factors that impact the final decision, from the parent and student income to the age of the oldest family member, the size of the family, ages of other children in the family, etc.
What does it mean for you?
There is always a chance to get student aid, so apply regardless of your financial situation if you are eligible for financial help.
What you need to do is to prepare all the documents, will out the form and send it. Once you are in college, make sure to maintain satisfactory academic performance according to your school's requirements to qualify for financial aid.
But even though you might fail at your academic progress, you can still recover and get financial aid, you just need your school's help to help you do it.
So, don't miss out and apply for financial aid every year.
About the Author –
Erica Sunarjo
is a professional writer and chief editor at TrustMyPaper. She is also a part-time school guidance counselor, helping students enroll in colleges of their dreams.