The Science, Technology, Engineering, and Mathematics (STEM) careers account for over 6% of all U.S. jobs according to Bureau of Labor Statistics (BLS). It is a fast growing and high paying area that is a great direction for new or graduating students to take as it offers encompasses a plethora of career paths, ranging from forensic research, data analytics, computer science physical and life sciences, engineering and cyber security to game design and aviation. The STEM career cluster is organized into two career pathways: Engineering and Technology, Science and Math.
Scope of STEM Careers –
STEM is a growing movement in education around the world. STEM-related fields have been getting more attention in recent years as essential components of today's competitive global economy. It is noteworthy, that even though there is a dearth of STEM talent, the market is flooded with available STEM jobs, which is a dream like situation for job seekers in this field. By the end of 2018, the number of available STEM jobs is expected to grow significantly, especially in fields that involve computers (growing by 51%), engineers and technicians (28%), life and physical sciences (13%) and architecture (6%). According to a study done in USA, there are 30 STEM occupations which utilize the STEM skills the most. These ranged from mathematicians, chemists, computer hardware engineers and civil engineers, to astronomers, agricultural and food science technicians and statisticians. All these occupations are categorized into the occupational categories of science and engineering professionals, information and communications technology professionals, and science and engineering associate professionals.
Regardless of the actions and initiatives taken by the government and various institutions, the US is unable to ensure the production of a sufficient number of experts in STEM fields to meet its national and global needs. Following the trend of other jobs, firms shift some STEM jobs offshore, mainly India and China, because they provide cheap labor with the intent to gain foothold into new markets.  Therefore, we have a large number of international students in USA studying a STEM degree and looking forward to work with a STEM Jobs under the OPT Jobs opportunity given to them.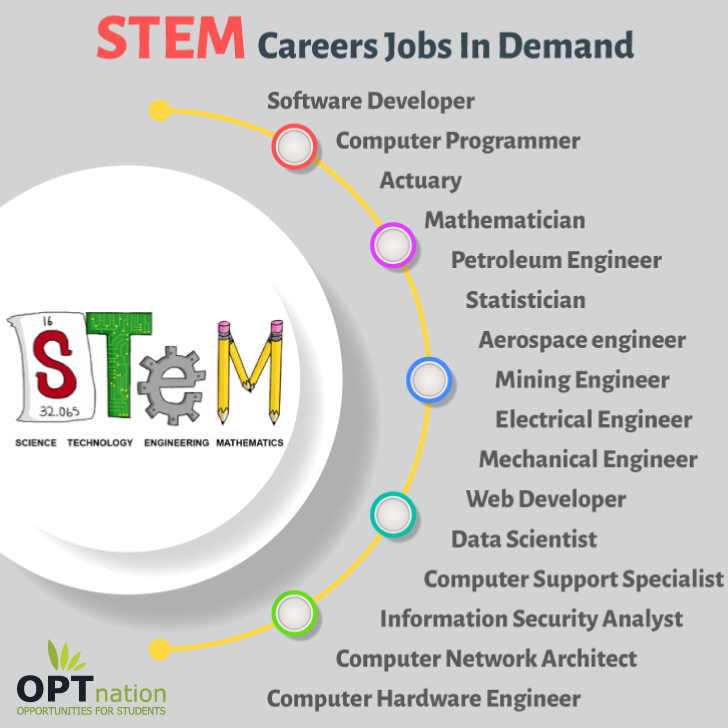 List of 10 STEM Careers Jobs in Demand:
These are the top 10 high paying STEM jobs for recent graduates:
Software Developer/ Computer Programmer – Software developers or programmers are in high demand and best STEM career in terms of job growth for IT Jobs. Programmers or Developers performs programming, coding, designing, improving the code for existing programs, also check for bugs in software and collaborate with fellow developers, management or clients.  They are creative, natural problem solvers and have technical expertise, strong analytical skills and the ability to think outside the box. The BLS projects more than 30% employment growth between 2016 and 2026, which is much faster than average for all occupations. The annual median salary for Software Developers and Programmers is well about $102,470.
Actuary – Actuarial science is a discipline that uses mathematics, statistics and financial theory to measure, manage and mitigate financial risk and uncertainty. For a career in Actuary, degree majoring in mathematics, statistics or actuarial science is required. To become a certified actuary, you need to pass the exams and obtain certification through the Casualty Actuarial Society or the Society of Actuaries. Depending upon type/speciality of actuary you want to be, there are different exam requirements. This job will show a growth from 2016 to 2026 at a rate of 22%. Entry-level positions can be grabbed with a require bachelor's degree. Their average median wage is about $114,850.
Mathematician – A mathematician uses an extensive knowledge of mathematics to solve mathematical problems, conduct research to explore and use formulas and models to develop theories. They use data as an important aspect to analyze and interpret data for practical purposes, such as business, engineering or science decisions and problems. Mathematicians are commonly associated with academic careers but not every mathematics major seeks a university faculty position. They also work in variety of other fields, like astronomy, government, robotics, climatology, medicine and many more. Entry-level careers in mathematics fields do require education beyond a bachelor's degree like Masters or PhD. This job have a whopping 30% increase in new jobs by 2026, so makes the job of a mathematician in our best STEM jobs. The average median wage for a mathematician is about $104,700.
Petroleum Engineer – Energy is a renewable technology and an important industry in the 21st century. So it's an important industry and one of the best paying STEM jobs. Petroleum engineers design and develop methods for extracting oil and gas from deposits below the Earth's surface. Petroleum engineers also find new ways to extract oil and gas from older wells considering economic and environmental factors. According to BLS, jobs for petroleum engineers are expected to increase by 15% between 2016 and 2026, compared to the seven percent average for other professions. In order to become a Petroleum engineer you need to possess a degree in Petroleum Engineering, which usually takes around four years and involves class work, labs and field work. The annual median salary for Petroleum engineers are $128,230.
Statistician – Statistician one of the best STEM jobs for the future, practically ensuring a job offer upon graduation. The projected job growth of 33% from 2016 to 2026 makes this job a good choice for career growth. Statistician works with statistics like collect data, analyze and interpret the data, and then report conclusions.  Employment in this field requires either a Master's degree or PhD in statistics or related field. Their annual median salary is $88,980.
Computer Hardware Engineer/ Computer Network Architect – Hardware Engineer research, design, develop, and test computer systems and components such as processors, circuit boards, memory devices, networks, and routers. According to BLS, their projected job growth is 5% from 2016 to 2026. Annual median Pay for Computer Hardware Engineer is about $119,650.
Computer network architects design, build and maintain a variety of data communication networks, from expansive cloud infrastructures to smaller intranets depending upon the business needs.  The Computer network architect's average median pay is $107,870.
In order to land a computer hardware or computer network architect job or entry level computer science jobs, you need a bachelor's degree in computer science, engineering, or information systems and also Masters with MBA are preferred.
Aerospace engineer – Aerospace engineers develop new technologies design and test and recommend improvements for aircraft, satellites, spacecraft, and aerospace products and equipment. They manage and supervise basic and applied research to assess adaptability of materials & equipment to aircraft design and manufacture. If you are proficient in math, physics, and chemistry you may be perfectly suited to a degree in aerospace engineering. Aerospace engineer average median pay is about $115,300.
Information Security Analyst – They take measures to protect a company's sensitive and mission-critical data by designing, implementing and maintaining computer and information security systems. The BLS has predicted an employment growth of 18% by 2024 for all Information Security Analysts, including Network Security Analysts. This will mean an additional 14,800 additional jobs. Their annual median wage is about $99,690.
Biochemist or Biophysicist – Biochemists study chemical compositions and cells development in living organisms to decipher biological problems, develop medicines and vaccines.
Biophysicist are responsible for observing, studying, and reporting on the physical properties and principles of living things to identify predictable patterns in biological processes.
Biophysicist will look at life on the atomic level or physical patterns, study proteins and the nervous system similarly, biochemists study cell development of living creatures. The two disciplines complement each other. For biochemists and biophysicists, projected Job Growth by 2016-2026 is 11%. This job requires Bachelor's, Masters or Ph.D. in biology, physics, chemistry, or mathematics to be eligible for entry-level positions while a postdoctoral research is a good way to land a higher or permanent position in the field. The annual median pay Biochemist/Biophysicist is $105,410.
Chemical Engineer – A chemical engineer convert chemicals, raw materials, microorganisms and energy into useful forms and products. They apply the principles of chemistry, biology, physics, and math to solve problems that involve the production or use of chemicals, fuel, drugs, food and other products. They design processes and equipment for large-scale manufacturing. Also plan and test production methods and byproducts treatment, and direct facility operations. Their annual median Pay: $112,430.
Manufacturing Engineer – Manufacturing Engineer are responsible for the development, design, implementation, and monitoring of equipment, tools, and machinery used in the manufacturing process. They are industrial production expert who research and develop methods to design, build, and ship various products or items handling manufacturing process. Their annual median Pay is $66,886.
Electrical Engineer – Electrical engineers works on electrical products and systems, from research and design to installation and handover, with a focus on safety, sustainability and value for money. They create electrical systems, products, components, and applications by applying knowledge of electricity, electronics, and electromagnetism. If you wish to become one, you need to earn a Bachelor's Degree in Electrical Engineering. Their annual median salary is $73,337.
Mechanical Engineer – Mechanical engineer design, manufacture, redesign, test and analyze mechanical devices. You can grab an entry-level mechanical engineering job with a minimum require of a bachelor's degree in same field, Graduate degree or higher will be added advantage. Annual Media Pay Scale for Mechanical Engineer is about $91,500.
Mining Engineer – Mining engineers use engineering principles, technology to safely and efficiently extract minerals and natural resources, such as coal and metal, for use in manufacturing and utilities. They also specialize in designing, developing, and testing machines, techniques, and processes for harvesting geological material. Candidates are required to hold a bachelor's degree in engineering or a related field if they aspire to become a mining engineer. They are also required to obtain license from the state before practicing as a professional engineer. Also Around 6,630 mining engineers are working in the US according to BLS. There is a 10% of growth in employment in this field between 2010 and 2020, according to BLS. The median salary for them is $103,710.
Clinical Informatics Specialist – Clinical Informatics is defined as "the application of informatics and information technology to deliver healthcare services."  Clinical Informatics specialists ensure that clinical information systems are functioning properly and researching ways to make improvements and keep the systems up-to-date. They work in a variety of areas, like hospitals, private practices, healthcare facilities and medical organizations across the country.  Their annual median salary is $74,155.
Including the above STEM Jobs for OPT students,
There are many jobs in STEM which you can find a perfect job and excel in your career. Here are few more:
1.    Accountant
2.    Aerospace Engineer
3.    Agricultural Engineer
4.    Anthropologist
5.    Applied mathematician
6.    Architect
7.    Astronomer or physicist
8.    Biomedical Engineering
9.    Business Intelligence Analyst
10.   Materials Science & Engineering
11.   Business Operations Manager
12.   Cartographer
13.   Chemists
14.   Civil Engineer
15.   Computer & Information Research Scientist
16.   Computer Support Specialist
17.   Computer Systems Administrator
18.   Cost Estimator
19.   Data Scientist
20.   Database Administrator
21.   Dietitians and Nutritionists
22.   Economists
23.   Environmental Engineer
24.   Financial Advisor
25.   Financial Analyst
26.   Financial Manage
27.   Forensic Science Technician
28.   Geographer
29.   Geologist
30.   Geo-scientist
31.   Health & Safety Engineer
32.   Industrial Engineers
33.   Industrial Psychologist
34.   IT Manager
35.   Logistics
36.   Management Analyst
37.   Marine Architect
38.   Marine Engineer
39.   Materials Scientist
40.   Medical & Health Services Manager
41.   Medical Scientists
42.   Nuclear Engineer
43.   Operations Research Analyst
44.   Pharmacist
45.   Physician
46.   Product Manager
47.   Psychologist
48.   Solution Architect
49.   UX Designer
50.   Web Developer

Max Troy is the Career Counsellor as well as a passionate Author. Well, he has years of experience in the Career and Jobs industry. As a part of his career at OPTnation, he helped various OPT and CPT candidates to shape their Career. Through his knowledge and writing skill, he is contributing to the students to find the best Career advice and immigration topics. Do share the information if you like it.