H-1B visa petitions for initial (new) employment in the U.S. are being increasingly denied. That's according to a National Foundation for American Policy analysis found that the denial rate nationwide grew from 6 percent in FY2015 to 32 percent in FY2019. The H-1B program is the largest temporary visa program in the U.S. and it serves as the primary means of entry to the country for skilled immigrants. April 2016, it resulted in USCIS and its adjudicators raising the standard of proof for approving H-1B petitions despite the fact that no new law or regulation allowed it to do so legally. This development is starting to impact some of America's biggest and best-known tech companies with the 27 top employers of H-1B visa holders all seeing an increase in denial rates. Not only it has affected new workforce but it is equally detrimental to major tech companies. As per National Foundation of American Policy some major players in market which experienced strong rise in denial rates from FY 2015 to 2019 are Ernst & Young from 3% to 44%, IBM 3% to 14%, JP Morgan Chase 1% to 15%, Microsoft 1% to 13%, Cisco 1% to 9%, and Amazon 1% to 5%.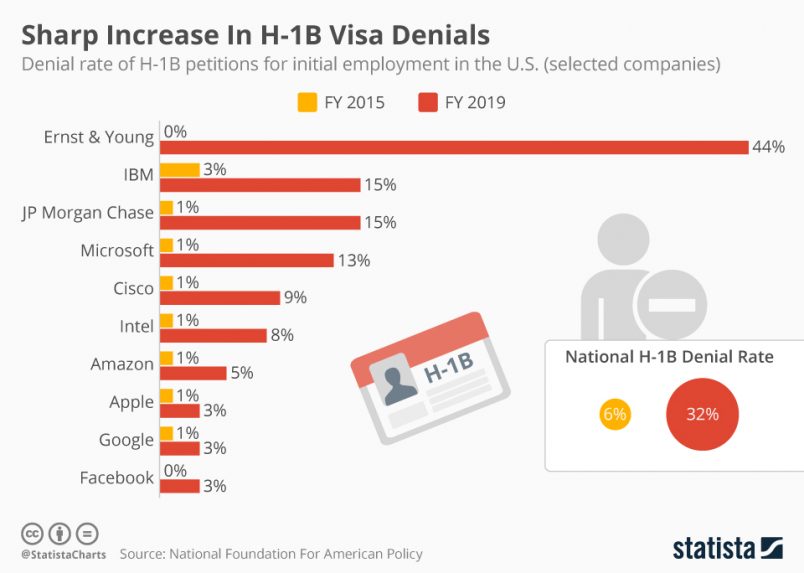 Source: Statista
Now the question here is how to counter such a scenario? Probably you could hire a consultancy specializing in dealing with improving approvals of H-1B visa petitions or one can subscribe to career portal services who have a niche in sourcing right candidates as well as provide quality information to recruiters. Such services recently have been instrumental in improving the denial rates of H-1B petitions. Such portals provide an interface to candidates to submit their applications to employers with the correct format or resume along with the information the top employers are looking for. Ultimately this resume is processed by U.S. consulate.
Now sourcing the quality candidates meeting the new stringent norms of U.S. government is like finding a needle in a haystack. So what is the solution? The answer lies in career portals like OPTnation which provides coordination between H-1B visa seeking foreign workforce and US employers. Employers can subscribe to their OPT candidates resume database which is a goldmine of resumes of technology candidates for OPT jobs and H-1B petitions.
Some of the tips below to counter high H1B visa denial rates:
Initiate the process as soon as the window opens
Such is the inflow of petitions that sooner you enter the queue better are the chances for you to getting approval. It is highly recommended that you start the process of applying as soon as the window opens and not wait for the last few days. It is quite logical as the window opens for just 5 days every year starting from 1st April.
Apply with multiple employers
File your H-1B petitions with multiple employers and believe it may just work for you. The number of times you file your petitions more are your chances to get the coveted work status.
Provide ample proof that your employer is willing to hire you at current market rates
The current situation of a large number of denials has resulted in employers hiring foreign workers at less than the prevailing market rate. So provide ample proof that your employer is going to pay the prevailing market rates.
Documentation should be perfect
Perfect documentation is key to your H-1B visa getting approved without much hassle. Make sure documents are duly signed, complete with right and all necessary information like address proof. This can rule out chances of rejection to a large extent.
Try getting exempted from the annual cap
Generally, employers check that the foreign workers are counted against the cap or not. The annual cap quota is highly competitive so make sure you qualify for an exemption. Best way to avoid it is to go for non-profit organizations, government agencies, universities as they are generally cap-exempt.
Do not bank on premium processing
Do not be under impression that you will improve your chances of getting H-1B visa approved under premium processing. It just speeds up the decision making the process.
Your employment experience and field of study should be in tandem
It is highly recommended that your job should be in correlation to your field of study. It is advised that your specialty occupation is corresponding to your degree.

Max Troy is the Career Counsellor as well as a passionate Author. Well, he has years of experience in the Career and Jobs industry. As a part of his career at OPTnation, he helped various OPT and CPT candidates to shape their Career. Through his knowledge and writing skill, he is contributing to the students to find the best Career advice and immigration topics. Do share the information if you like it.