Internship for international students in the USA plays an important role for recent graduates who are willing to apply for jobs. You will see here the benefits of internship and how it is useful for your career. Bosses are substantially more liable to procure somebody with entry-level positions and work encounters instead of somebody with a generic resume or lacking knowledge.
Generally, employers always look for someone with little industrial knowledge so here it comes one of the benefits of internship. Lectures alone are not enough to choose your career. It gives you knowledge but having an internship for international students in the USA gives you experience and skills which can put you in the correct place. You can never really understand what it takes to do a job until you have worked practically within that role.
Many companies are looking for people with not only the necessary academic knowledge but also the practical experience. It is critical that you pick your entry-level positions in light of your interests and professional prospects. So it is good to start thinking about your career while you're in high school.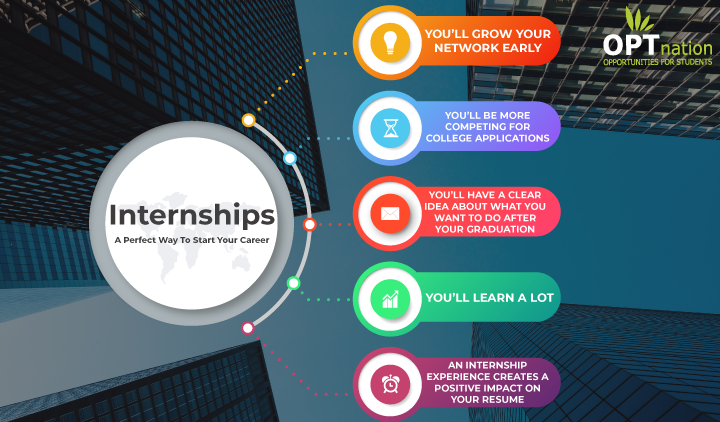 Check out the benefits of an internship and how an internship in the USA plays a crucial role to get jobs for graduating students.
You'll grow your network early.
If you're thinking about your career, you'll make a point to build a network. By going to school-sponsored events, local meetups and connecting with your teachers or you can contact people of your interest, you can grow a strong network that will support your future career. Very few high school students take initiative to meet expert contacts, hold them to create opportunities and then keep in touch with them when they graduate."
You'll be more competing for college applications.
If you're applying for further studies, your part-time job or internship experience in the USA can be an asset to your career.
The admissions committee will be able to see that you are motivated, curious and serious about success from the fact that you used your break to work and gain professional experience."
You'll have a clear idea about what you want to do after your graduation.
When you gain work experience, it will be easier to eliminate subjects that you won't be interested in if you go to college for further studies, so you don't make any career mistakes. The sooner you realize what you do and don't want to do in your career, the easier it will be for you to make the right career choices.
You'll learn a lot.
Just applying for an internship for international students in the USA is a great learning experience. Working through the internship request process and completing a summer internship program contributes valuable decision-making lessons that play a vital role when applying to colleges & future summer internships.
In addition to learning important skills that will make you a very worthy employee, a summer job or internships for graduate students can help you gain confidence and a better understanding of 'the real industrial world'. It also helps to get jobs for graduating international students.
An internship experience creates a positive impact on your resume.
Jobs for international students in the USA are very competitive, so having a full resume that includes actual industry training is sure to be a valuable asset especially for CPT jobs or F1 visa students. It adds a plus point in your resume to make you stand out from the competition in today's world.
Employers can read a lot from a sheet of paper. Having an internship in the USA will show that you are interested to gain employment in the industry. It will also indicate to employers that you have the correct skills and enough experience to take on a permanent paid position for the growth of their organization.
Hence to get jobs in the USA for recent graduates, part-time/full-time internships play a very important role in one's career.

Max Troy is the Career Counsellor as well as a passionate Author. Well, he has years of experience in the Career and Jobs industry. As a part of his career at OPTnation, he helped various OPT and CPT candidates to shape their Career. Through his knowledge and writing skill, he is contributing to the students to find the best Career advice and immigration topics. Do share the information if you like it.