When on the hunt for a job, it is not unusual to be applying for numerous opportunities simultaneously. This is particularly true for anyone of us just beginning in our careers. But numerous applications mean several resume versions, different cover letters and plenty of, many different due dates to keep track of. With so many moving parts at one time, it is not too difficult to be disorganized. One must maintain daily action activities and schedule a job search plan for an effective job searching process.
But a disorderly job search method can result in embarrassing blunders like lost contact numbers, confusing deadlines, as well as missed interviews. In order to enable you to avoid these downfalls, I have put together a few helpful hints to enable you to keep your job search structured.
CREATE A JOB SEARCH PLAN AND ORGANIZE DAILY ACTIVITIES:
Think and define your career path
It is not difficult to want to simply jump right in and start filling out job applications. But when you do, it is advisable to consider a step back and have a look at the bigger picture. Your career journey must begin with a look at the course in which you are headed.
Although it might seem to be trivial to reserve time to organize your thoughts to clearly think through the career path you would love to pursue, this is among the most crucial steps to take. How are you supposed to get started going anywhere in case you do not are aware of where you wish to go?
Job Search Plan
Once you are done with defining your career path one should make list activities and deadlines by which you should complete this activity. One should then make a job search plan as per the template provided below: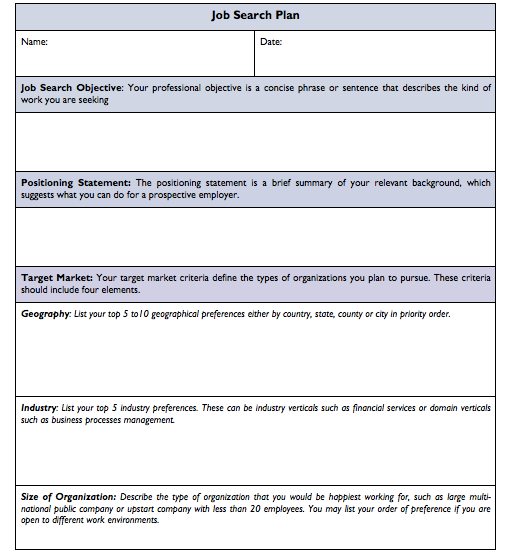 Update Resume
Take enough time to produce a well-tailored resume that highlights the skills of yours especially as per the job you want to apply for.
Be sure you personalize your cover letter and resume in a way to ensure that the hiring managers can find what all you're doing as well as the abilities you have only just after glancing at your resume.
Everything has to be clearly stated and should provide the hiring manager an opportunity to understand that the reason why you're the very best prospect for the project. Stay away from sending a generic resume to different businesses in which you're curious to obtain a job
Research your Target Companies
Once you are done with the job search plan you will need to have information about your target companies. An excellent idea for locating a brand new job is actually investigating a company 's Glassdoor page. It is going to help you receive an idea about company culture, figure out what questions they generally ask in interviews, and also learn what salary you are likely to end up paying. Make sure you match your interests, values, and skills with an appropriate professional.
Use multiple job boards
I want to quickly search jobs all over the USA then there is nothing taking the help of online job portals. With their advanced search features probably you apply to several vacancies in a few hours. The most effective resources to search for appropriate jobs in the modern, competitive environment are a variety of job boards. There are several popular websites offering open positions to Jobseekers.
You can browse these job boards in order to look for a suitable job that compliments your skills and potentials and also provide you with a handsome salary. You should look for following in a  job post:
The Job Title
Recruiters Name
The exact instructions for applying for the job
Keywords to use in your resume
Actual qualifications required
Build, cultivate, and utilize your network of contacts
For the great bulk of jobseekers, having a strong and large community of connections always benefits. Individuals that know you and wish to support you uncover employment prospects which may lead to even more job opportunities. Marketing – in online and person – is actually crucial to the success of yours in the job search of yours.
What's more, it allows you to get a good grasp of what's out there and readily available, which means you may be far more strategic in the job search of yours. Do not be scared to reach out to individuals on LinkedIn, and in case you understand somebody operating within a business that interests you, requests a referral. Hiring managers would want to interview individuals who arrived suggested before sorting throughout the resumes packaged through a profession site.
Attend various Career Events
One more successful job search method which has been gaining substantial momentum over some years is actually participating in different career events.
Going to a variety of career fairs is actually among the finest techniques to land a good job. For this, you can get ready by pre-registering for the event. Be sure you research only registered employers. Take a number of copies of your resume or maybe CV and dress smartly while you attend a career fair.
---
YOU MAY LIKE TO READ
---
Online Reputation
Do not involve yourself in petty discussions concerning politics or any controversial topics online. As far as possible keep your social media image clean and straightforward. When there's some content on the internet that mirrors terrible or maybe concerns in relation to you, then you definitely should delete it or perhaps eliminate it.
In the event that you would like to land to a reputed job, then having professional visibility on the internet is really essential especially on sites as Twitter and LinkedIn. Hence, it usually shares pertinent as well as crucial info online, associated with your field and industry. Revealing good info about the industry of yours is going to help you construct a good track record online which is an excellent approach to entice companies looking for ideal applicants online.
Prepare for Interviews in Advance
Before you get called for your first interview, answers for common employment interview questions, and subsequently practice them. Like ideally making use of the mock-interviewing strategy with a good friend, the network speaks or the interview coach. The better prepared you're for the employment interview, the more comfortable you will be – and also much more likely to succeed.
Follow up with Hiring Managers
Your work is not done once the interview is complete or the thank-you note sent. Following up with the hiring manager regularly shows your interest and enthusiasm for the job. The key is doing so in a way that is professional while not making you sound pesky or needy.
Be Persistent
The job search process requires the utmost patience. It is time-consuming effort plus you would never know from which source you will get a job. One should be persistent in applying plus be up to date about the industry happenings.
The process of a job search is not easy. It requires your attention, lots of patience, and lasting persistence. By following a multi-channel strategy you will be soon successful to find the best job for yourself. Needless to say, one should be aware of which are the legitimate ways to get a job. And they should not get lured by fake scammy job schemes. So, first of all, study well and get good grades, try to get as much exposure you can get in your subject area and be a smart worker. All the best!!

Max Troy is the Career Counsellor as well as a passionate Author. Well, he has years of experience in the Career and Jobs industry. As a part of his career at OPTnation, he helped various OPT and CPT candidates to shape their Career. Through his knowledge and writing skill, he is contributing to the students to find the best Career advice and immigration topics. Do share the information if you like it.