OPT is temporary employment authorisation for F1 international students to gain practical experience in jobs directly related to their major area of study. F1 visa students are eligible for a total of 12 months of OPT per degree level of their education (e.g. Bachelor's, Master's, Doctorate).  OPT Timeline enables you to plan your activities to prepare methodically and make your OPT application process streamlined and improve your chances of success.
When To Apply for OPT?
For Pre-Completion OPT – You can apply as early as 90 days before your requested employment start date.
For Post-completion OPT – The earliest you can apply for OPT is 90 days ahead of your program end date.
If your I-20 is going to end at the time of the final quarter of yours of enrollment, we'll instantly shorten the end date to mirror that change.
With current workload and policy changes, USCIS which earlier used to take more or less 90 days to process the OPT application now exceeds 110 days. As per USCIS declaration, it may take 30 days or more to receive the EAD card, but usually, most of the cards will reach you within 7-10 days of approval. In total it might take OPT application processing up to 90-120 days.
If you wish you may open an account with USCIS. It enables an individual to track your case and accurately track the EAD status once USCIS processes your application, prints and mails the card to you. It is not possible to apply for USCIS account.
If your case inquiry is pending for more than five months, one can raise a case inquiry with the account created as well as check the status.
OPT TIMELINE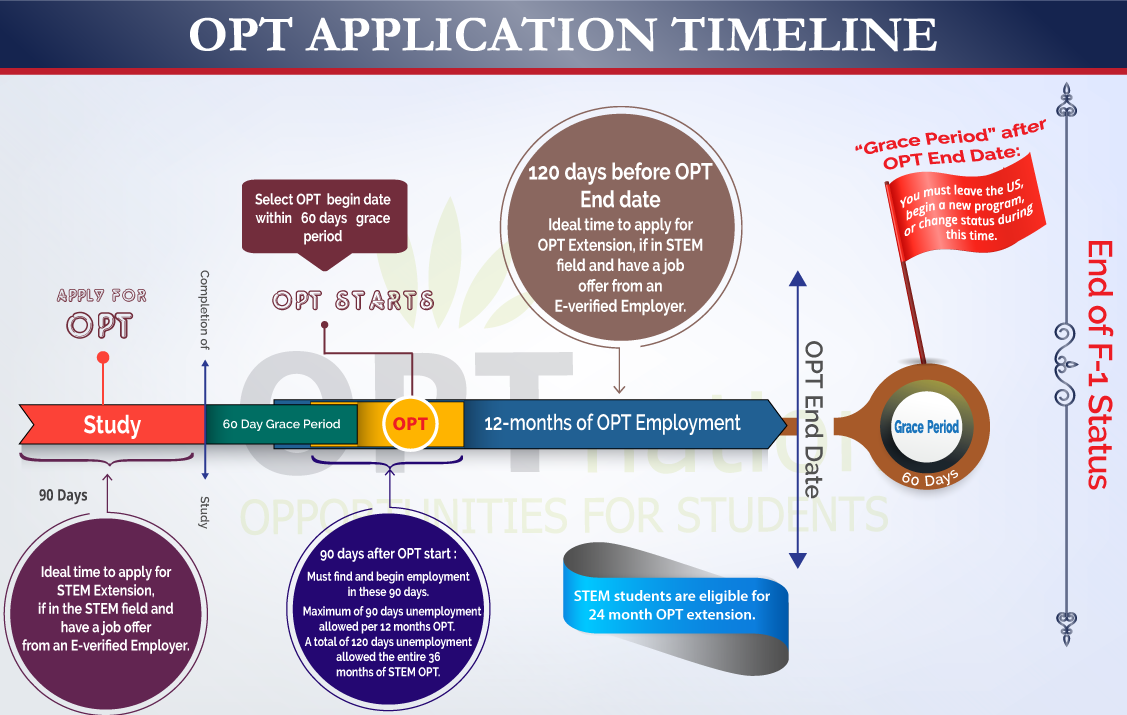 One is aware of the fact that one needs an OPT authorisation to start work on OPT job for US employer. The above figure displays the OPT application timeline, which has to adhere to strictly. The timeline can be utilised to plan your entry into the US job market without any hurdles. Considering the current scenario if you expect based on this timeline, it would reduce a lot of last-minute hiccups which could also lead to the worst situation. So plan wisely to make your career beginning as smooth as possible.
---
---
How to choose the OPT start date and end date:
Potential Dates for Post- Completion OPT
| | | | |
| --- | --- | --- | --- |
| If your final quarter of registration is. | Your I-20 currently expires on or will expire on. | You can choose an OPT start date as early as. | Or you can choose an OPT start date as late as |
| Summer 2019 | 8/31/19 | 9/1/19 | 10/30/19 |
| Fall 2019 | 12/14/19 | 12/15/19 | 2/12/20 |
| Winter 2020 | 3/21/20 | 3/22/20 | 5/20/20 |
| Spring 2020 | 6/13/20 | 6/14/20 | 8/12/20 |
| Summer 2020 | 8/29/20 | 8/30/20 | 10/28/2 |
Source: Northwestern University
Considerations to choose an option to start and end date:
What is the current processing time for OPT?
Do you already have a job offer?
Where are you in the job search process?
Still job searching? Choose a later start date
Travelling? Consider your travel plans
Applying late? Choose a later start date
Not sure? Contact your IO advisor or come in during walk-in hours!
Please keep in mind that it will take 3 to 5 months to get your EAD card. We suggest applying early and strategically choosing your start date. You cannot work until you have your EAD card, and the start date has passed.
Overview of the OPT Application Process
Obtain a recommendation from ISSO on new I-20
Allow one week for processing by ISS. Receive email notification from ISS. Pick up new I-20 and OPT application.
Send OPT application and $380 fee to USCIS
Allow 90 days for processing by USCIS Receive I-797 Receipt Notice with a case number
USCIS will process and send the student an EAD
Allow two-to-three weeks from date of submission to USCIS for receipt notice to arrive Receive EAD (Employment Authorization Document)
Allow 90 days from the receipt date on Receipt Notice for EAD to arrive.
DETAIL OPT TIMELINE / OPT APPLICATION PROCESS:
Request Recommendation Letter from the DSO.
Request your end and start dates and ask for a recommendation letter from the academic advisor/DSO of your university or college.
Submit your OPT Request Forum to the DSO, and you will receive a Form I‑20 as the recommendation.
Pick up the new I-20
Bring all your OPT files to the DSO
Pick up your brand new OPT recommendation I-20
Review your whole OPT program with DSO
Assemble All Documents
The DSO is going to process your Opt authorisation what this means is you will be given an I20 to utilise with your OPT program.
Throughout this particular time, please assemble all of your OPT documents. Check the OPT Application Documents checklist here.
The instructions letter is given with the Form I-20.
Properly file Form I-765, Application for Employment Authorization, including the supporting documents and the fee to be paid.
Sign your all your I-20, I-765 and required documents.
Copy/take a photograph of application pages of your I-765 Form and all related forms filled for your reference in future.
Mail the OPT application to USCIS
Mail your request to USCIS within fifteen days (or else it'll be rejected!)
OPT Processing Time
OPT processing time is the time taken to assess the application for EAD card. Traditional USCIS processing time has been 90 days or more, but currently, processing times are exceeding 110 days. From the point of approval, USCIS says it can take 30 days beyond to receive your EAD card; however, most cards arrive within 7-10 days after approval. Average OPT processing time is 2.5 Months to 5 Months for a qualified F-1 academic student.
Wait for OPT application processing…
After 2-3 weeks, you are going to receive a receipt notice in the mail, and via email depending on the information, you entered on the G 1145 type.
As soon as approved, you are going to receive contact from SEVP to produce a Portal Account. Usually the very first "approval notification" you'll get.
The card of yours will most likely show up at the address you requested about two weeks after the SEVP email.
You are going to receive your OPT EAD card. Create a message or even take pictures of each side of the new EAD card of yours. Don't drop it!
You can't start working until you get the EAD card, as well as the start date on it, 's passed.
You may begin your OPT only after approval of your Form I-765, and you receive your Employment Authorization Document (EAD).
Note: You are allowed a 60 days OPT grace period after OPT EAD end date if you remain unemployed for more than 90 days. If you reach 90 days, you must report this via the SEVP Portal and leave the U.S. as soon as possible.  You will not have an additional grace period. 
STEM OPT Extension Application –
If you file your STEM OPT extension application on time. On the other end, your OPT period expires while your extension application is pending. In this case, USCIS will automatically extend your employment authorisation for 180 days.
.  This automatic 180-day extension ceases once USCIS adjudicates your STEM OPT extension application.
How your OPT timeline can help you?
There goes a saying stitch in time saves nine, and that is precisely how a timeline helps you to streamline your OPT application process and job search campaign. Keeping in mind the current delays with USCIS, it is recommended that you make timeline well in advance and follow that, so you do not miss important deadlines and land in a dire situation. All the best!!
Wisdom is in applying the OPT application within the appropriate time to get your EAD card as soon as possible. Good Luck!!

Max Troy is the Career Counsellor as well as a passionate Author. Well, he has years of experience in the Career and Jobs industry. As a part of his career at OPTnation, he helped various OPT and CPT candidates to shape their Career. Through his knowledge and writing skill, he is contributing to the students to find the best Career advice and immigration topics. Do share the information if you like it.