The importance of a well written Professional Resume should be emphasized enough so as to give an impression of yours; which you use to present as a job applicant. The typical employer solely spends some seconds staring at a resume, thus it's important that it makes an impact.
F1 candidates looking for OPT jobs need to do a little more effort for job seeking and process of applying jobs so there OPT resume should be more enriched. This is the same with international students or visa holders like H1B, H4 EAD, CPT, J1 visa, etc. There is no point of getting a fake resume that happens in many cases of international students; one can face many bad consequences if they have wrong information on their resume. If DHS or any authority comes to know about that someone is using fake resume to get job, then there visa status will be in trouble and can also be deported from USA. So one should be honest and trustworthy in writing resume and should present it with confidence. For getting an interview chance or making your interview selection chances high; one of the key factors is to focus your resume for every job you apply. You can seek the employers' attention by outlining your skills and highlighting what YOU can DO for THEM. You can highlight your application and if you strengthen your resume you can have a chance for job interview selection.
OPT Resume Database for Employers: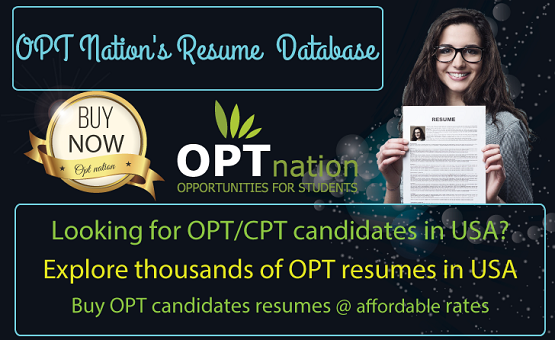 OPT Nation is a job portal which is raising its employment resources for OPT CPT candidates to get latest and best jobs and provides the employers with large database of resumes that helps companies hire the best talent. Are you an employer looking for opt resumes in USA? OPT Nation offers employers to access the genuine OPT students resumes (OPT resume database) and find the desired OPT resumes required. OPT resume quality at OPT Nation database is the high and factual with the information. The employers can easily choose from our packages and then access the OPT resumes effortlessly. OPT Nation provides employers with different service packages options so that they can choose according to their feasibility. Our resume package differs in terms of for what period employer requires which can be 3 months, 6 months or 1 year and the prices are very moderate as per market. Employer get the access to the resume database by registering themselves with OPT Nation and buy the OPT resume database service.
Visit Employer Zone and Create an account for free: http://www.optnation.com/employers
OPT Resume Services for OPT Candidates: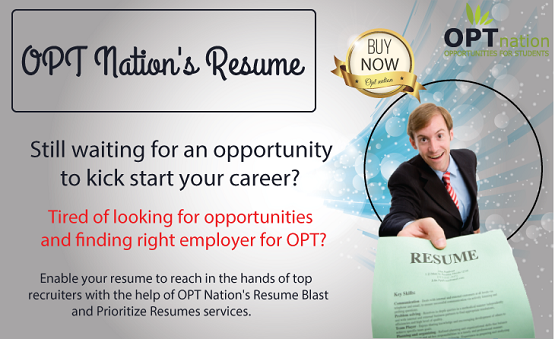 OPT Nation is persistent in offering the best opportunity for job seekers to get hired. OPT Nation also have different services for the job seekers so that they can get noticed by the employers. The OPT eligible students can search the latest jobs at OPT Nation and easily apply for the OPT jobs for international students . We also help in highlighting the presence of candidates to the employers. Jobs seekers can highlight their resume when the employer is searching for candidates. Job seeker can choose our "Resume Prioritize" service and their resume will be highlighted and appears at the top of the candidates resume search list for certain period. Thus OPT candidates can prioritize their resume over a number of OPT resumes in the resume database. OPT Nation is an emerging and reputed job portal persistent in its job searching services for international students in USA. OPT Nation also offers Blast Resume service so that job seekers can blast their resume and highlight it to thousands of employers. If any candidate activates "Blast Resume" service then their resume will be visible to multiple employers as we have 4000+ employers registered with OPT Nation.  OPT students searching for jobs online should activate these services by just one simple step and your resume will be highlighted and noticeable to companies hiring candidates over multiple OPT resumes in the database.
Whether you are an employer or a candidate, OPT Nation tries to benefit all by providing its services at affordable prices. Still not registered; register with OPT nation and take the benefits of  services provided to you.